If you've been reading my blog for a while you'll know that I have been banging on about going to Reading Festival for months now! It's easily one of the highlights of my year and this will be my 7th year that I have been. It's over the bank holiday weekend so just over 2 weeks to go so I thought I'd do a little series of posts to show you what I'll be taking, what I'll be wearing, how I'll do my hair and what make up will be coming with me.
First up it's my cleaning and hygiene essentials. All I can say is if you don't pack anything else, above all pack wipes and hand gel!
Sunscreen
Sunscreen is so important. We usually have a hot day at least one day of the weekend and I do not tan, at all, so its factor 50 for me!
Body Spray
I like to take body spray rather than perfume. You're also not allowed to take glass bottles into the site, so these little plastic ones are great. This is a minature from the Ted Baker range.
Nivea Deodorant
Hopefully I don't need to explain this one - but again this is a travel sized can - there is no point making your backpack heavy by taking full size products!
Mark Hill Quick Fix Dry Shampoo
Another travel size product (FYI there are usually great deals on the travel sized items in Boots - like 4 for £5 or 5 for the price of 4 etc!). Dry Shampoo is one of my best friends at a festival - a quick spritz of this in the morning and you're good to go!
Soap & Glory Hand Maid
I actually use this year round as I just LOVE the scent and its useful when going out for meals to just pop in your handbag. I go through a lot of this over a weekend at Reading Festival as the hand gel they provide usually runs out on the Thursday before the bands have even started!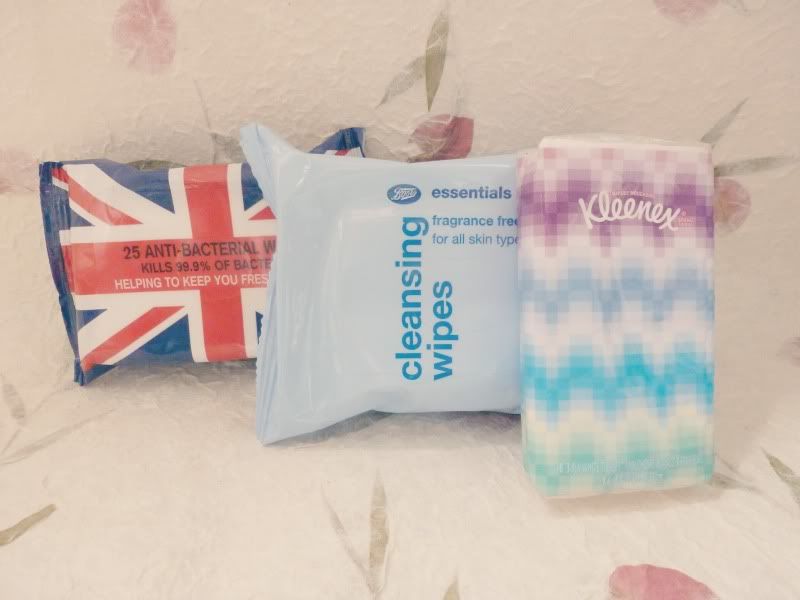 Primark Anti-Bacterial Wipes
These can be used for lots of things at a festival! I also take baby wipes as well, but wet wipe showers are the way forward haha!
Boots Cleansing Wipes
Going to a festival is no excuse not to remove your make up! It's so refreshing at the end of a day of drinking and dancing to remove all the make up and grime so face wipes are a must!
Kleenex Tissues
I take several packs of these bad boys and have a pack on me at all times! Much like the hand gel, toilet roll does not last long so its best to be prepared at all times!
I hope you enjoyed this post, look out for the next post in my Festival Essentials series for more tips and advice!
Thanks for reading!
Shelley xo