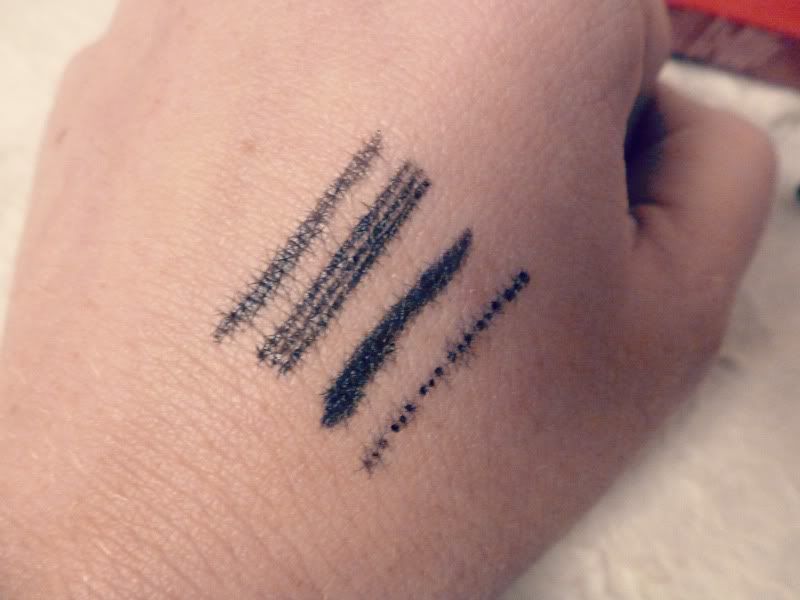 Clarins 3 Dot Liner in Black | C/O Clarins | RRP: £20
When the press release for Clarin's Autumn Make-up Collection dropped in my inbox, one product in particular caught my eye and that was this unique Limited Edition 3 Dot Liner. At first it reminded me of those crazy felt tips I used to use when I was little, but as I read on I realised there was a lot more to this eyeliner than childhood nostalgia!
The unique triple point applicator fills the tiny space inbetween each lash, dot by dot which gives you the illusion of a fuller looking lash line. I would say its a more subtle look than normal liquid eyeliner, and it lasts for ages! It's perfect for a daytime look, or, as you can see from the above pictures, you can use it as a conventional 'felt tip' eyeliner. This lasted me all day as well, which is unusual for me as make up seems to disintergrate on my face within hours!
Note: Apologies for the 'bleed' on my hand... that's just my skin unfortunately and nothing to do with the eyeliner - safe to say it doesn't happen on my eyes! Once I've mastered getting flattering close up shots of my face I'll post more reviews with the products actually where they are meant to be!
Have you tried any of the Clarin's Autumn Make-up collection? I have my eye on the Colour Accents Face & Blush Palette!
Thanks for reading!
Shelley xo