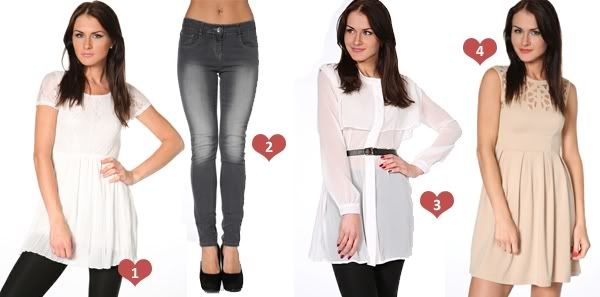 1: White lace top/dress
2: Dark grey jeans
3: Sheer white blouse with belt
4: Cream cut out skater dress
All £5 each
Let me just start by saying that if you go onto the Everything5Pounds.com website, you will need 2 things. Time and patience. You have to have a good rummage around the website to find the good stuff, and I mean a GOOD rummage. (Tip: For a laugh, visit the lingerie page...). There is a lot of stuff I wouldn't touch with a barge pole but there are also some absolute bargains to be had!
I have bought several items from this website and I have never been disappointed with what I have got - it's always been great quality, and often looks better than it does in the pictures on the website! Delivery takes 3-4 days and is calculated by weight. You can pay for special delivery if you want something urgently. Above are the items I have bought from the website this week - you wouldn't believe they were only a fiver each right!?
Each day the Everything 5 Pounds Facebook page updates with 'New Arrivals' so its worth keeping an eye on this so you know to buy it the next day as things sell out quickly!
Have you bought anything from Everything 5 Pounds?
Shelley xo