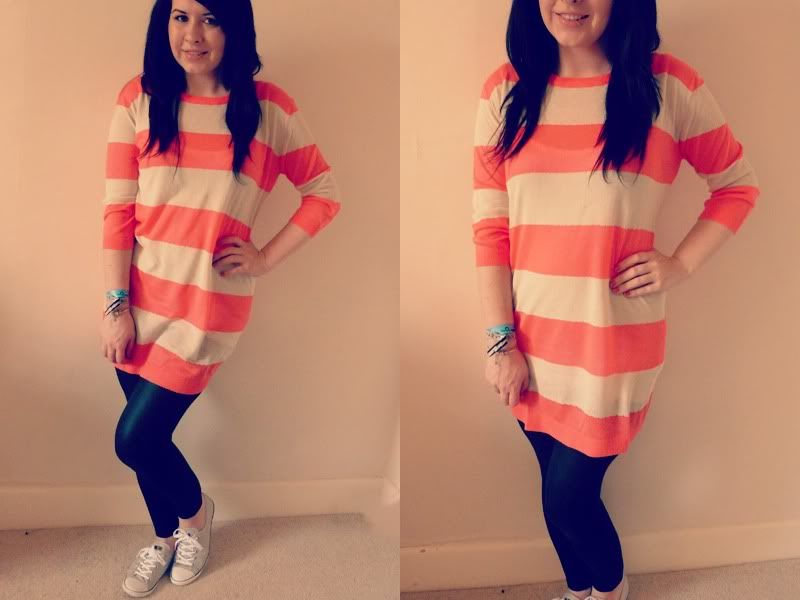 Jumper/Dress: Mango/Asos | Leggings: Miss Selfridge | Converse: Office
I apologise for how tired I look in these pictures - I am so tired! I have really bad insomnia so spend most of the night awake then up at the normal time in the morning - if anyone has any miracle cures, I would love to hear them!
I got this jumper/dress this week from the Asos sale for a measly £6.50. What a bargain! This is my casual look with it, but I think you could stick on some heels and necklace and take this to a nightime look. The camera doesn't really pick up on how bright the pink/orange is - it's pretty fluorescent! I live in Converse and have a few pairs - these are the newest addition to my Converse family and I've worn them pretty much every day since I got them! I love the fact the Converse Lite range really work well with dresses and pretty much every outfit I own!
I thought I would mention the make up I'm wearing as well. The mascara is the new No7 Fanomenal Lashes which I got with a £5 off voucher - I'm really pleased with it! Foundation is Rimmel Wake Me Up and I have the L'Oreal Caresse lipstick on in Dating Coral.
I'm now going to do a bit of work and then hopefully make the most of the nice weather we appear to be having today!
Thanks for reading!
Shelley xo